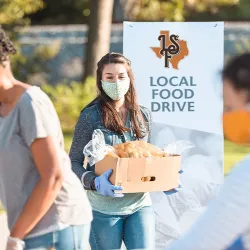 The Larry Sauls & Friends Food Donation Program is where compassion and generosity come together to fight hunger and make a lasting impact on the lives of individuals and families in need. At Larry Sauls & Friends, we believe that no one should have to go without a meal.
Our Food Donation Program is dedicated to addressing food insecurity in our community by providing vital nourishment to those facing hunger. With your support, we can make a difference and create a brighter future for all. By contributing to our Food Donation Program, you become a vital part of our mission to alleviate hunger.
Your donations, whether in the form of monetary contributions or food supplies, directly impact the lives of individuals and families struggling to put food on their tables. Together, we can ensure that everyone has access to nutritious meals and the comfort of knowing that they are cared for.
Our program relies on the generosity and kindness of individuals like you. Your involvement helps us expand our reach, increase the number of families we can support, and make a tangible difference in our community. Together, we can build a stronger, more resilient community where no one is left behind.
Join us in the fight against hunger
Whether you choose to donate, volunteer, or spread the word about our Food Donation Program, your actions contribute to the collective effort of making a positive change. Together, we can make a significant impact on the lives of those in need and create a community where everyone has access to the nourishment they deserve.
Be a part of something meaningful. Let's feed hope, bring smiles, and make a difference in the lives of our neighbors. Explore our Food Donation Program and discover how you can play a vital role in creating a hunger-free North Texas community. Join us today and let's make a lasting impact together.