Larry Sauls & Friends is a dedicated non-profit organization committed to making a positive difference in the lives of those in need. Since our inception on Christmas Day, 2001, we have been serving North Texas communities through various charitable endeavors, focusing on food donations, toy drives, and disaster relief efforts.
Our mission is simple yet impactful – to support needy citizens and bring hope to individuals and families facing challenging circumstances. We strive to uplift communities, provide essential resources, and create opportunities for a brighter future.
We believe in the power of collaboration and the strength of compassion. We work hand in hand with volunteers, sponsors, and community members who share our vision of a more inclusive and caring society. Together, we make a meaningful difference in the lives of those who need it most.
Our Annual Programs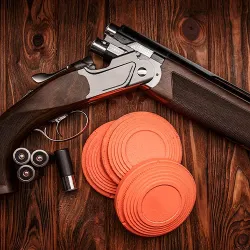 Our flagship event, the Annual Sporting Clays Benefit, brings together passionate individuals who share a love for shooting sports and a commitment to giving back. This event serves as a crucial fundraising platform for our Food Donation Program and Holiday Toy Drive.
Through our Food Donation Program, we strive to combat hunger by providing nourishment to individuals and families facing food insecurity. Our Holiday Toy Drive brings joy and smiles to underprivileged children during the holiday season, providing them with toys, bikes, and other gifts that they may not have the opportunity to experience otherwise.
We invite you to get involved and be part of our mission. Whether through volunteering your time, making a donation, or spreading awareness about our initiatives, your contribution matters. Together, we can create a positive impact, support those in need, and build a stronger, more compassionate world.