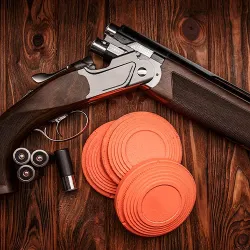 Please join us for the Larry Sauls & Friends 6th Annual Sporting Clays Benefit event, which will take place on Friday, October 13th, 2023 at the Ellis County Sportsmans Club located at 470 W Sterrett Rd in Waxahachie, Texas.
This event is more than just a sporting clays shoot; it's an opportunity to make a significant difference in the lives of underprivileged children in Dallas, Tarrant, Ellis, and Kaufman Counties.
The registration for the event will begin at 8:00 am, and the shoot will start promptly at 9:00 am.
This year's event promises to be an exciting and fun-filled day of sporting clays shooting. Participants will have the opportunity to compete for first place and earn the esteemed bragging rights. But, this isn't just about the thrill of the competition. It's about coming together as a community to support the Larry Sauls & Friends Food Donation Program and Holiday Toy Drive.
Every shot taken, every clay shattered, brings us one step closer to our goal of ensuring no child goes without food or a gift this holiday season. 
Shooter Entry Fees
4-Shooter Team - $850.00
We offer the 4-shooter team package priced at $850. REGISTER A TEAM
Individuals - $225.00
Individuals who prefer to participate as a single shooter can do so by purchasing the single shooter package priced at $225. REGISTER AN INDIVIDUAL
Lunch - Included!
In addition to the thrilling competition, the event will also include a delicious lunch for all participants.
Sponsorships
We are offering various sponsorship options for interested parties. This is a chance to get your business or organization in front of many shooters and spectators.
Shooting Station Sponsorship - $1350
The first option is the Shooting Station Sponsorship, priced at $1350. As a sponsor, your logo will be prominently displayed at the pavilion and on all printed and digital event materials. Additionally, this sponsorship package includes a 4 shooter team and 400 12-gauge shells.
Pavilion Sponsorship - $650
The second sponsorship option is the Pavilion Sponsorship, which is priced at $650. By choosing this sponsorship, your logo will be displayed at the pavilion and on all printed and digital event materials.
For further information about the event or any of the sponsorship options, please feel free to call us at (214) 794-3222. We look forward to your participation in this exciting event for a great cause."
What You're Supporting
It is important to note that 100% of the proceeds raised from this event will go towards supporting the Larry Sauls & Friends Food Donation Program and Holiday Toy Drive.
Our Holiday Toy Drive aims to bring joy, laughter, and smiles to underprivileged children in the North Texas area. Every child deserves the magic of Christmas morning, the thrill of tearing open a gift chosen just for them. By participating in our event, you're not just giving a toy; you're giving love, care, and hope. Please consider donating new & unwrapped toys at the event.
The Larry Sauls & Friends Food Donation Program is our commitment to fighting hunger in our community. Your involvement in our event helps us provide vital nourishment to those facing hunger. Your donations, whether in the form of monetary contributions or food supplies, directly impact the lives of individuals and families struggling to put food on their tables. Please consider donating non-perishable food items at the event.
Join us in the fight against hunger and in spreading holiday cheer. Together, we can make a significant impact on the lives of those in need and create a community where everyone has access to the nourishment they deserve and the joy of the holiday season. Be a part of something meaningful. Let's make a lasting impact together.